Good things come in small packages. New Zealand is testament to that maxim. Just because a country is small does not necessarily mean that you can cover it in a few days or even a week. New Zealand is such a place.
New Zealand is the perfect destination for nature lovers & active travelers. If you don't have the time to do both north and south islands, how do you decide what to see? Do you do a little bit of both or do you choose one island promising yourself that you'll return to do the other island the next time? It's quite the quandary and hopefully I can be of assistance here. They are both fabulous and are very different from each other. Each one offers something unique. If you have the time to do both, great! I would suggest at least 3 weeks. With the American vacation window being so short, many face the daunting decision of choosing one island over the other or… trying to cram everything into a short time span. My advice for travelers going anywhere is to focus on a few key spots rather than running all over from one stop to the next, making it extremely difficult to fully absorb a destination and thus missing out on oh so much! Not to mention, galivanting around like that, you will need a vacation from the vacation when you return home.
Self-drive is the way to go here, and self-drive I did. For 3 weeks. Most folks go from North to South. I did the opposite, starting in Queenstown and working my way up to Auckland. What struck me throughout this odyssey was the majestic beauty. With each corner turned, I was met with stunning vista after stunning vista. I stopped a LOT to take photos. The scenery is SPECTACULAR!
Rather than attempting to cover the entirety of New Zealand in one article, I have opted to break if into 2 parts. This article will cover the South Island. So yes, there will be a sequel – a New Zealand Part II focusing on the North Island. I will present in the order I experienced it, so New Zealand South Island, here we go!
South Island
The South Island is full of beautiful views framed by the Southern Alps. Gorgeous fjords and lakes offer nature lovers a never-ending supply of scenery. If you are an adrenaline junkie, then the South Island is for you.
Adventure in Queenstown
A stunning city, with dramatic views of the surrounding Southern Alps. You can snow ski and jet ski in the same day. When in Queenstown…partake of the smorgasbord of adventures offered. It is the essence of the city.
Heralded as the adventure capital of the world, Queenstown delivers! I can only imagine how they dream up new hair-raising experiences. Maybe the attendees at 'adventure dreaming up meetings' challenge each other to come up with the most outrageous adventures known to mankind. Maybe they even give out awards. "And this year's Golden Kiwi goes to…" – Who knows? I only know that they have the corner on the market in this arena. Literally everything from A-Z exists here.
Who invented the jet boat? Ding ding…Kiwis! Who invented bungee jumping? Right again… Kiwis! Zorbing? That weird thing where you roll down a hill inside an orb… you got it! Kiwis! There is a plethora of options for adventure seekers throughout the country.
I started my journey in Queenstown, and because of its reputation for adventure, I did a canyon swing right out of the gate. When in Rome…it was a BLAST! In fact, I had such a good time, I did it twice. The entire experience from the shuttle ride to the canyon, the jump, and the ride back to the office is such a smooth operation & the guys who help push you over the edge are hilarious. Talk about an interesting job… pushing people over cliffs all day long. These guys have it DOWN. Shotover Canyon Swing is the company. You must do this if you're in Queenstown. I highly recommend it!
Following the canyon swing, I flew by helicopter over Milford Sound. Landing on one of the glaciers, the grandiose landscape before me, I felt quite small…it puts things in perspective that's for sure. If you stay at Blanket Bay, one of the fabulous Luxury Lodges of New Zealand, then the helicopter will pick you up on the lawn in front of the lodge and plop you down again right in front of your beautiful lodge where there will be a warm beverage waiting for you. The only way to fly!
Around Queenstown
Arrowtown is a small town just outside of Queenstown. Driving the short distance from Queenstown following a jetboat excursion, I arrived at a quaint town with cute shops and a handful of cafes to choose from. There is an old Chinese goldrush settlement in the park depicting the life of migrant Chinese workers in the mid-1800s. If you have time, I recommend you add this to your itinerary.
Have you heard of the Hector Dolphins? They are the rarest & smallest marine dolphins on earth and are oh so friendly. A superbly superb experience is to take an overnight cruise in Doubtless Sound, where you are visited by the friendly Hector Dolphins boat side. Spend the day meandering the gorgeous inlets taking in the spectacular views surrounding you. Another option is to swim with them. There are several spots to swim with these cuties, two of them being Akaroa and Kaikoura… you'll want to stay at Hapuku Lodge + Tree Houses if you go to Kaikoura while you explore this area of the South Island.
Wanaka
Serendipity often plays a part when traveling. My vehicle broke down in Wanaka after leaving Mutt Lang's Mahu Whenua Ridgeline Homestead & Eco Sanctuary, and so I ended up staying an extra night. I happened upon a wonderful movie theatre called Cinema Paradiso, where the seats are anything from sofas to bean bag chairs with some conventional seating thrown in for spice. If you need a blanket, then just open the hood of the car parked towards the front of the theatre and help yourself. So, I'm watching 'Free Solo' when the film suddenly stops. The head honcho of the theatre walks into the theatre and announces that it is now intermission & there are homemade cookies and ice cream available in the concession area for anyone interested. It was almost a stampede getting out there… sugar can be a great motivator & those freshly baked hot cookies are just the ticket!
Lake Tekapo
En route to Mt. Cook, Lake Tekapo is a beautiful azure blue color. Stargazing is the thing here. Containing a university dedicated to astronomy, light pollution is strictly controlled in the neighboring town of Lake Tekapo so as not to disturb the university's research of the Aoraki Mackenzie International Dark Sky Reserve. Lake Tekapo's streetlights are LED. I think that's so cool. Gazing through the telescopes at stars & constellations that can only be seen in the southern hemisphere is a fantastic experience if you're a stargazer. I was able to see several planets, but my favorite was seeing Saturn with its rings.
Christchurch
A city still recovering from the devastating earthquake of 2011. The highlight here was visiting Mary, a long-lost friend from my days of living in Tokyo. I hadn't seen her in 20+ years and it was such a joy to catch up. The cardboard church (transitional cathedral) is worth a visit. Yes, it's built of cardboard…mostly.
Kaikoura
Next…Kaikoura and swimming with Hector Dolphins. The water was freezing, but no worries. You get used to it, right? It's more like you just get a bit numb and you keep moving to stay warm. But those little dolphins are worth it. They are curious and playful and so darned cute!
My time on the South Island drew to a close as I transferred my vehicle onto the Picton Ferry to cross over to the North Island.
Luxury Lodges of New Zealand
From Mutt Lang's homestead to a tree house lodge, staying in these lodges is a wonderful way to organize your New Zealand odyssey. They are small, 'boutiquey' properties full of character and charm with cuisine to die for. Each offers a wide array of activities and excursions to choose from.
I couldn't stay in EVERY luxury lodge of NZ, but I did manage quite a few, and of those I will write. It is worth noting that the staff at all of the Luxury Lodges I stayed at could not have been nicer. I felt immediately at home in every one of them. I already covered Blanket Bay. This is what it looks like. Pretty snazzy!

Following are the rest of the lodges I experienced…
Eichardt's Private Hotel – Right in the heart of Queenstown, it is a historic building which was once a wool shed. The hotel also owns a yacht, so guests can opt to go out for a day on Lake Wakatipu. After a day of full on adrenaline, gliding along the bay with its stunning views is a great way to decompress.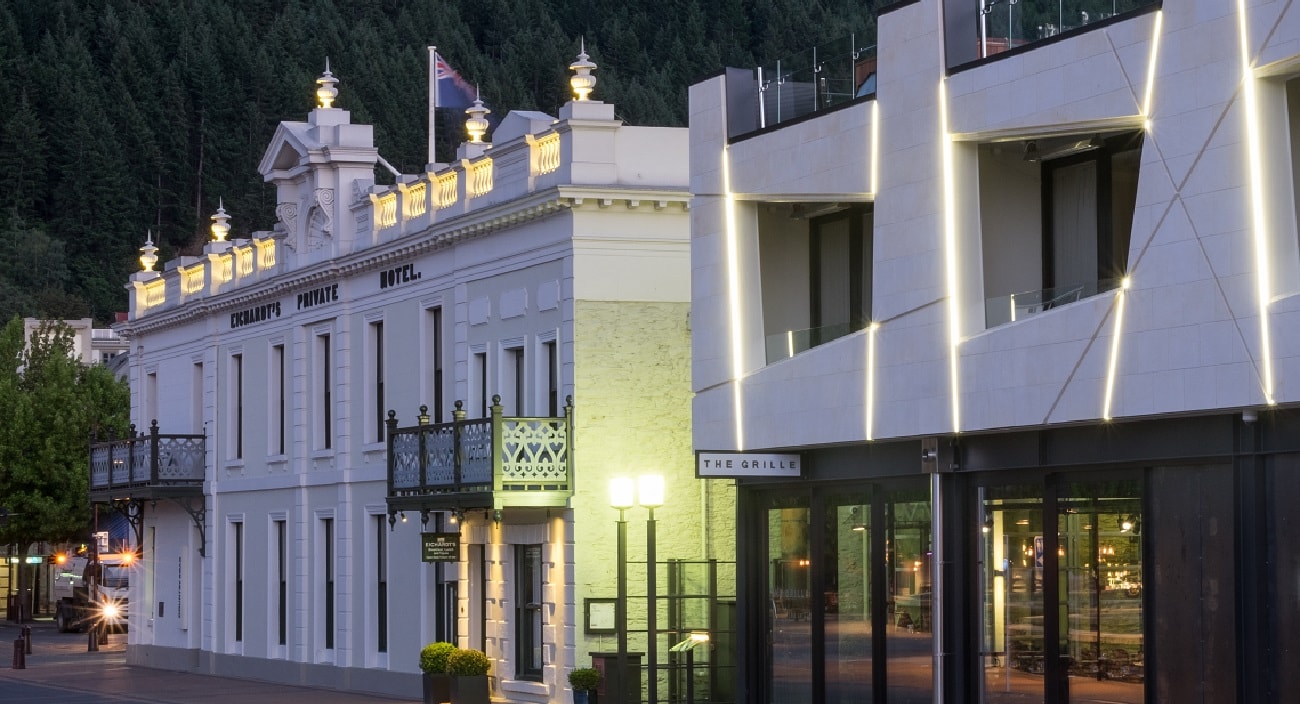 Otahuna Lodge – This is the place to stay if you are planning to visit Christchurch. It is absolutely charming in every way with beautiful gardens all around and cuisine to die for.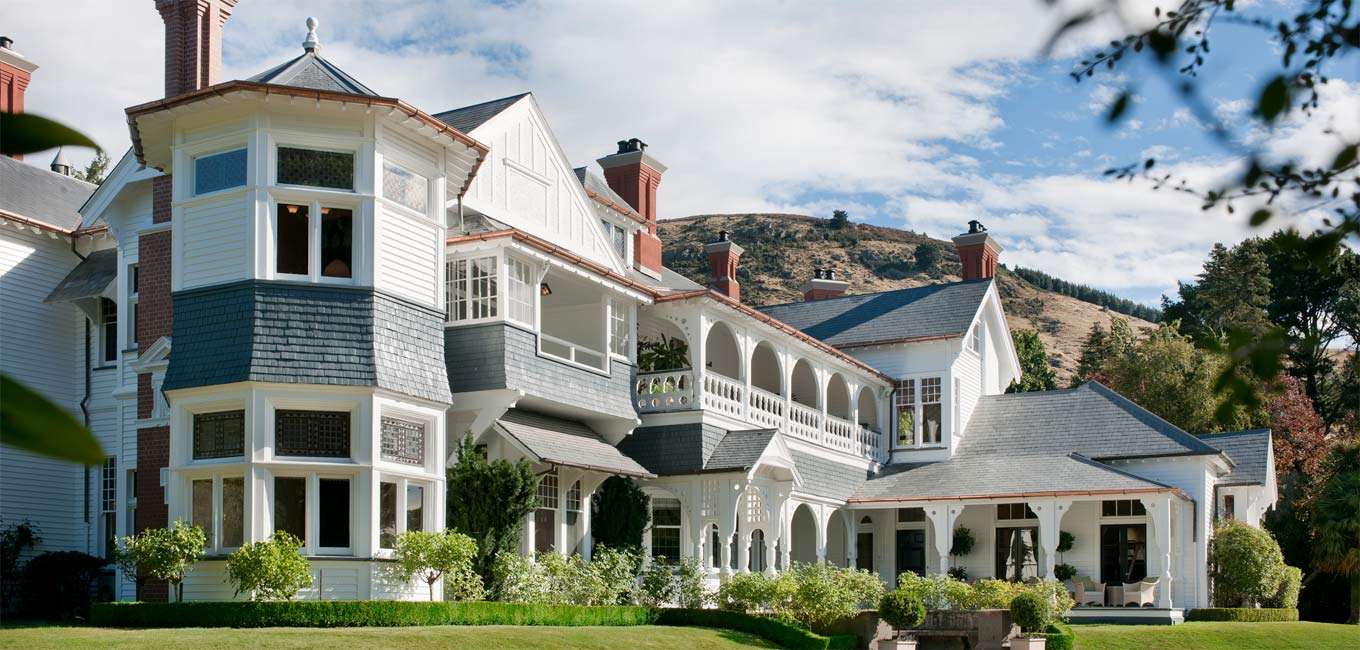 Mahu Whenua Ridgeline Homestead & Eco Sanctuary – Owned by Mutt Lang, this lodge is off the beaten path just outside of Wanaka. Sitting on 200 square miles of land, the owner's vision has been to regenerate the land on the stations. In addition to introducing sustainable farming practices, he has started an extensive plant regeneration and native bird breeding program which has been an enormous success. Explore the town of Wanaka while you're in the 'hood.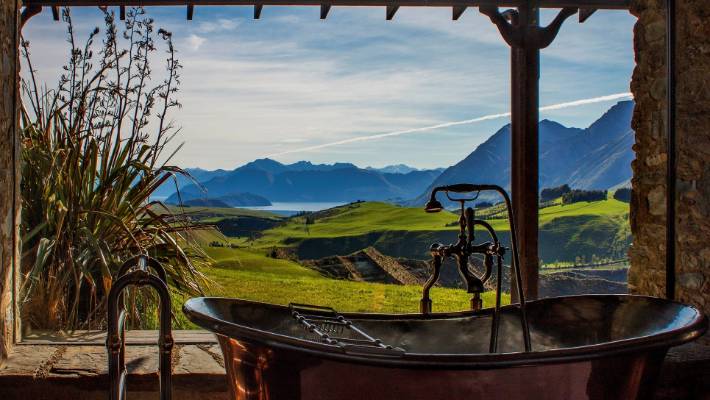 Hapuku Lodge + Tree Houses – A contemporary country hotel located on a deer breeding farm, it sits snugly at the base of the Kaikoura Seaward Mountain Range, with the Kaikoura coast and famed Mangamaunu Bay only a hop and a skip to the east.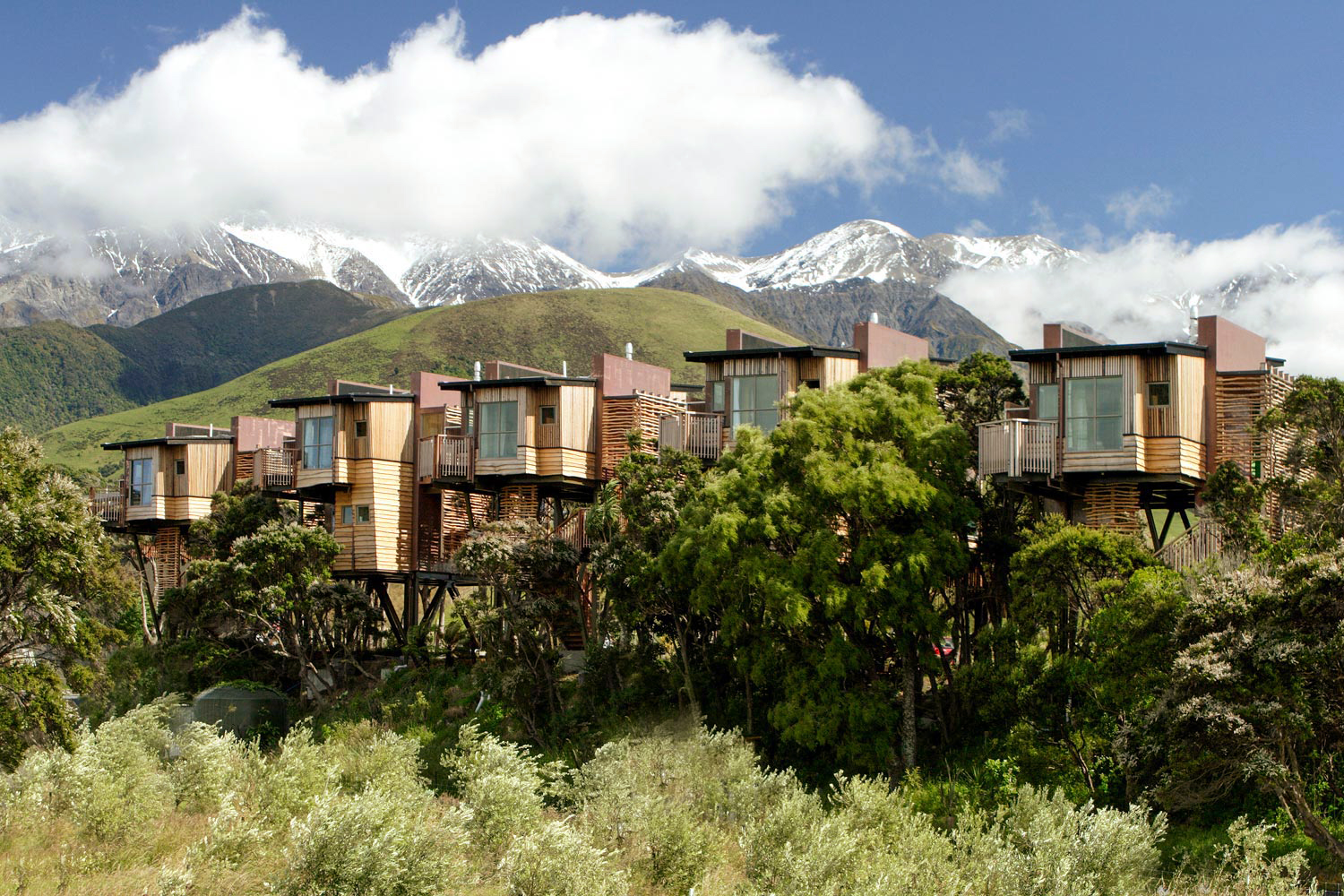 Even with 3 weeks of travel, I couldn't see everything. But then, I guess one never can see everything. That's the fun of revisiting a destination. To see what you missed the 1st time around.
Finally, the people are welcoming and warm. You're sure to make new friends. Thank you to all who watched over me during my tour…  Vance, Ann, Jean-Michel, Chris, Delani, John, James, Kerry, Louise, Louise #2, Kim, Rachel, Fiona, Charlotte, Trish, Tom.
For more details on New Zealand, please visit my destination focus page on my website at www.blacklabeltravels.com\newzealand