This is a companion piece to my May article on Israel. Visiting the two countries on the same trip is quite popular, so I thought it fitting to post the articles back to back – well… almost back to back.
Off the beaten path it is… misunderstood, yes… extraordinary… ABSOLUTELY!
Most of you know of Petra, arguably the most famous 'must see' site in all of Jordan. It is a wonder of the world, a UNESCO World Heritage Site, has been featured in films and is most definitely not to be missed. It has earned its place with these lofty accreditations with good reason. A handful of Bedouins from the Bdoul tribe still live within the historic site. Spend 2 days here. There are lots of hikes you can take which will show you different sides and sites. It is still largely unexcavated, so will hopefully continue to keep astonishing generations to come.
Now let's take a look beyond Petra…
Jerash is one of the best preserved Roman cities around the world. You can even see the wheel ruts left by the chariots in the marble streets. Roam amongst the ruins and imagine a bygone era of chariots and ball games, vibrant markets and entertainers lining the streets.
After learning how to write my name in Arabic and the basics of wrapping a keffiyeh (traditional Jordanian headscarf) from our fabulous guide, Ramzi, I felt ready to tackle Wadi Rum. It is a vast region of desert where "The Martian" and "Lawrence of Arabia" were filmed. 4-wheeling through the desert is a blast & you really do feel like you're on another planet. Imagine seeing Bedouins trekking with their camels across the landscape against a brilliant sunset. You can experience a bit of the Bedouin life in one of several Bedouin glamping style camps in Wadi Rum. Luxuriate in the gorgeous night skies while dining on local cuisine & listening to local musicians. You can even stay in pods just like the one Matt Damon lived in in "The Martian."
Now…there's the Red Sea and the Dead Sea. The Red Sea offers fantastic snorkeling and scuba opportunities. From the purview of a boat, I was able to see Saudi Arabia, Jordan, Egypt and Israel at one point. Aqaba is a vibrant city worth spending some time in. The Dead Sea from the Jordan side was especially poignant to me as I looked across at Israel on the other side remembering how, just a couple of months ago, I was there looking across at Jordan wondering when I would be able to visit the Jordanian side. Dreams do come true!! Speaking of which, the Jordan River at Bethany Beyond The Jordan (a UNESCO World Heritage Site) is within spitting distance of Israel. You could literally walk across the river in a few quick strides to reach the Israeli side. My personal tip – if you are combining the two destinations of Israel and Jordan, I would opt to stay in a hotel on the Jordanian side of The Dead Sea. The options are much nicer. Conversely, I would opt to stay in a hotel on the Israeli side of The Red Sea for the same reason.
The people are incredibly warm & generous. The concept of sharing is paramount to the culture. Example… I was in the elevator with a Mother and her small son. The son opened up a bag of chips and before taking one for himself, walked over to me offering me his chips. It was so sweet! It is a testament to the nature and generosity of Jordanians. Believe me, you will not go hungry in Jordan. The food is delicious and plentiful! Jordanians take their time over meals to relax, and enjoy their time conversing and perhaps smoking shisha (hookah containing tobacco mixed with fruit or molasses sugar).
Jordan and Israel have had official diplomatic relations since the signing of the 1994 Israel-Jordan peace treaty, and it can easily be arranged to include both on your itinerary. The Kingdom of Jordan, known as the 'Switzerland of the Middle East', is officially a "water poor" nation, but it has one incredibly valuable resource – peace. For those with an adventurous spirit seeking new experiences, I highly recommend that you give The Middle East a try if you have not already. There is so much history and these cultures have so much to offer. Special thanks to the Jordan Tourism Board for their hospitality and generosity.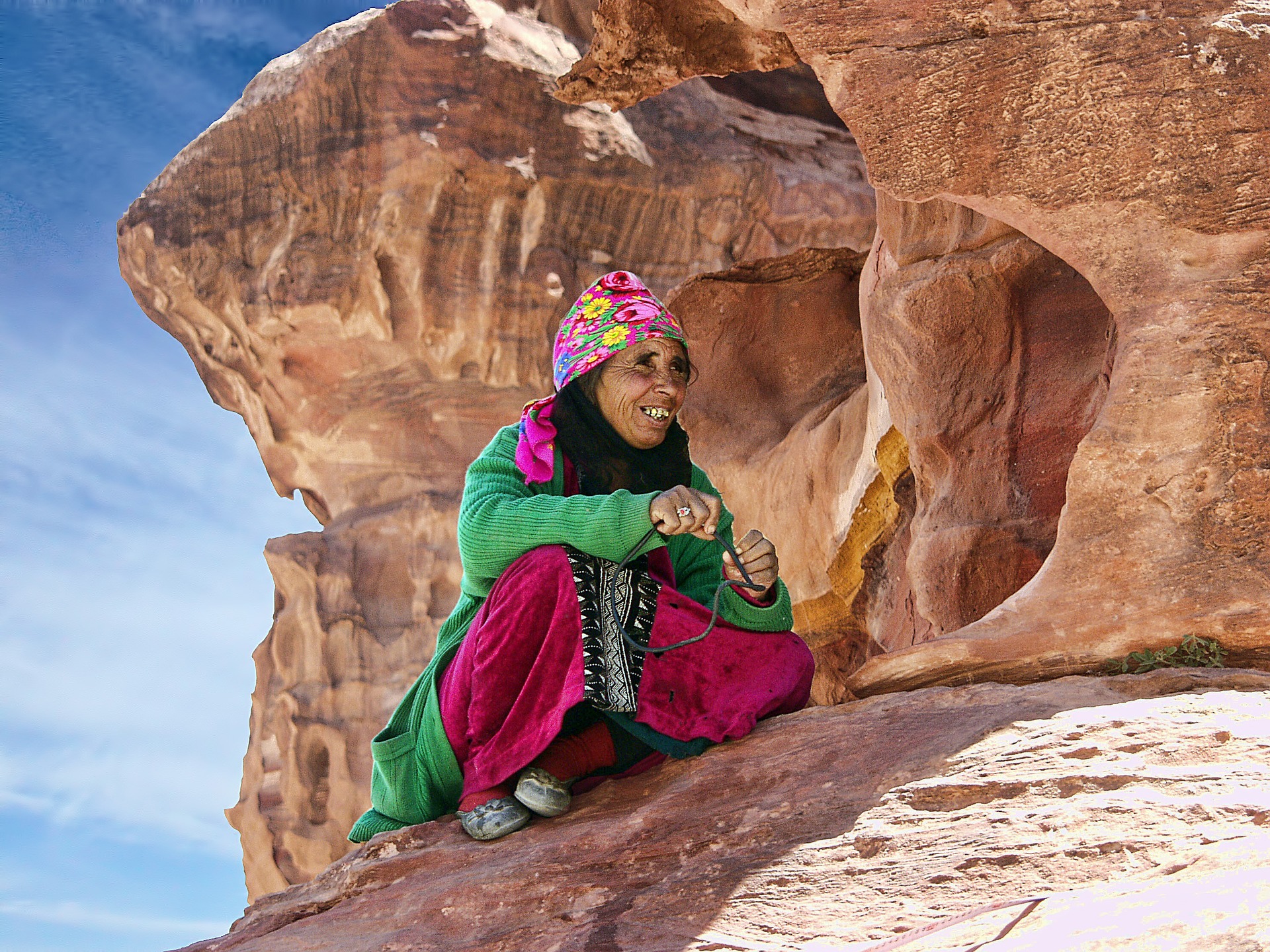 Bedouin Woman, Petra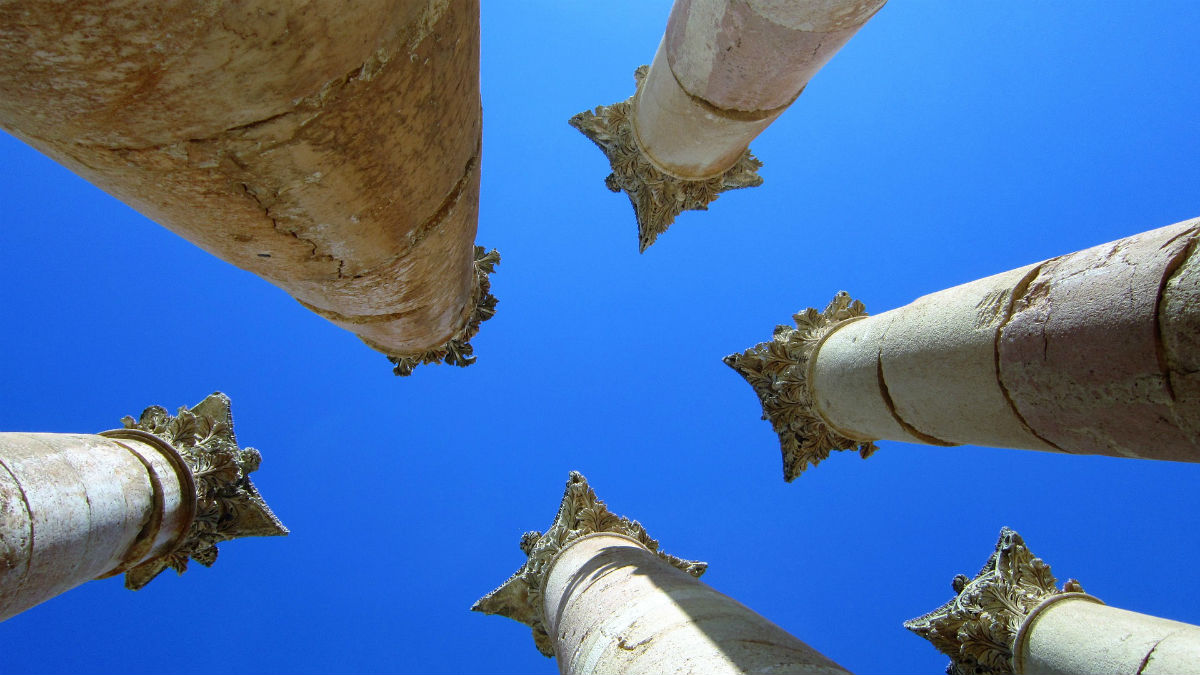 Roman Columns, Jerash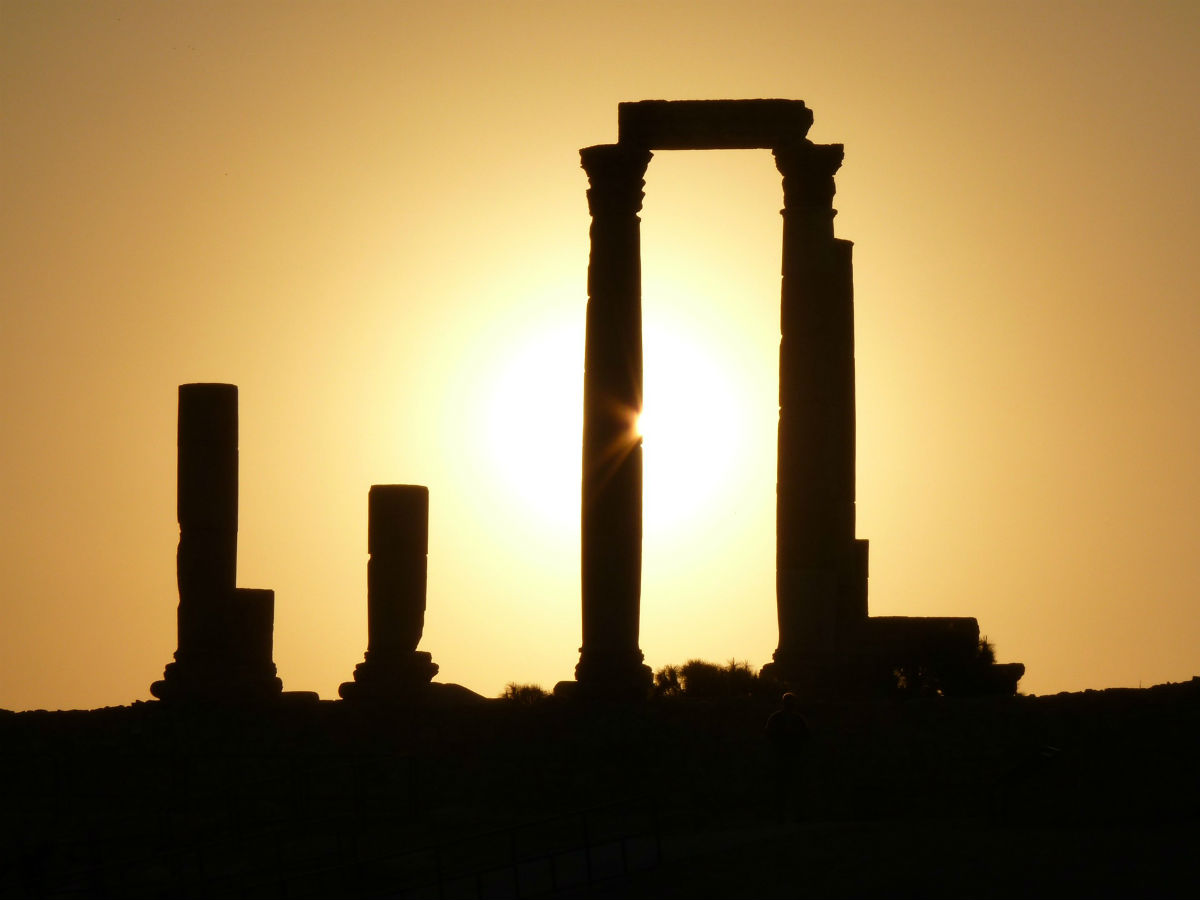 Citadel Hill