One visit to Australia is simply not enough. Divided into six states and two territories, Australia has a plethora of experiences to offer. First time visitors tend to visit Sydney, Melbourne & The Great Barrier Reef. You will want to return, believe me…so the question is where to next? Well, there are several options… South Australia, Tasmania, Western Australia, Victoria, etc. Let's take a look at the Red Centre in the Outback of the Northern Territory. Having recently visited this area of the country, I can attest that it is well off the beaten track & different than anything you've ever experienced…guaranteed. The dirt is redder than red. I couldn't stop myself from remarking daily on how red the dirt was! I'm from Arizona & have Sedona in my back yard. This dirt is redder. The people are fun & friendly, resilient & tough. Living in the Outback takes fortitude & resourcefulness to put it mildly.
Uluru (Ayer's Rock) is perhaps the most well-known site for visitors, & the heart of Australia. 5.8 miles around in circumference & the largest monolith in the world, it is UNESCO for good reason. It is situated on aboriginal land, & extremely sacred. So sacred, in fact, that certain sides of the rock cannot be photographed. Some places on the rock may only be seen by initiated men, or by Aboriginal women. I was impressed with Uluru beyond what I thought I'd be. You need to spend some time there. The rock changes with the light. As the sun & shadows change throughout the day, so do the colors & visuals of the rock, glowing red at dawn and sunset. It's quite extraordinary. I had the rare opportunity of seeing it during rain, so was able to see waterfalls flowing down the rock. What's even crazier is that they dry up & stop flowing within 5 minutes after the rain stops! Bruce Munro currently has a light installation exhibit there which you should definitely experience. You can enjoy first class dining on a sand dune overlooking the Field of Light & Uluru at the Sounds of Silence Dinner, & then walk amongst the lights through paths carved out in the exhibit. It is otherworldly. The installation has been extended another year, so if you're thinking about visiting Uluru, don't put it off. Uluru offers a beautiful 5-star accommodation – in my opinion, THE place to stay while you're there – Longitude 131.
There is much more beyond Uluru. To the west lies a captivating collection of rounded rocks called Kata Tjuta (The Olgas). Though less well known, they are just as pretty as their popular neighbor. Don't miss the Valley of the Winds walking trail. Further out from Uluru is King's Canyon which offers great hiking and is well worth the trip. Accommodations are slim pickings, so you need to plan ahead. There is a wonderful, very unique all-inclusive glamping experience in a small camp nearby as well as swag camps & a more rustic hotel option to choose from. Accommodations serve up delicious dinners under the stars using local ingredients. It's a very Australian culinary experience. In the Outback, they eat what is available – kangaroo, emu & camel are common fare. Dingoes roam freely on some of the properties, so watch your purse! They are known opportunists & took off with a woman's purse while I was there. She got it back, but it was about a half mile away! "Maybe the dingo ate your purse!" Ring a bell? I took some poetic license, but my guess is you are either thinking of "A Cry In The Dark" or Seinfeld. Sorry…I couldn't resist…
While we're talking about eating the local fare, I ate a Witchity Grub! Oh yes, I did! We stopped at a small Aboriginal settlement & a couple of the inhabitants demonstrated the process of finding grubs, extracting them from the bark & then cooking them up. I do try to immerse myself as much as possible when traveling, & so I took the plunge & ate the grub. It wasn't bad, really. It tasted like a cross between popcorn & scrambled eggs. All protein – it's good for you!!! Aborigines are very private & don't allow tourists on their land, but there are occasional exceptions. You would need to work with your Advisor to arrange a visit to an Aboriginal community.
Finishing up my tour of The Outback in Alice Springs, there are 2 places worth noting:
The Kangaroo Sanctuary – There is an awareness effort being promoted whereby people are encouraged to stop when they see a kangaroo lying along the road, which has been hit by a car. They are to check its pouch & if there is a joey inside, they bring it to the Kangaroo Sanctuary so the sweet little joey can have a chance at life. Locals are encouraged to carry pillowcases & blankets in their cars, so they have something in which to wrap the joey so it will feel like it's in Mum's pouch. Lots of Alice Springs locals then foster the joeys so the Kangaroo Sanctuary doesn't get over crowded. It is proving to be a successful endeavor & The BBC UK/National Geographic USA even made a documentary on the owner and his work with kangaroos.
Earth Sanctuary – This family owned & operated award winning sustainable enterprise offers a very unique all-inclusive experience where you can sleep under the stars in a swag, enjoy Didgeridoo jam sessions around a fire, immerse yourself in astronomy experiences, & converse with fascinating hosts. I didn't want to leave this place. It is a truly unique experience for those looking for something new. Incidentally, in my opinion, the 2 brothers look very much like the Gibb Brothers!
Bring your sense of adventure and visit a part of Australia that is beautiful, culturally rich, less frequented and full of adventure. The world is vast. Go explore!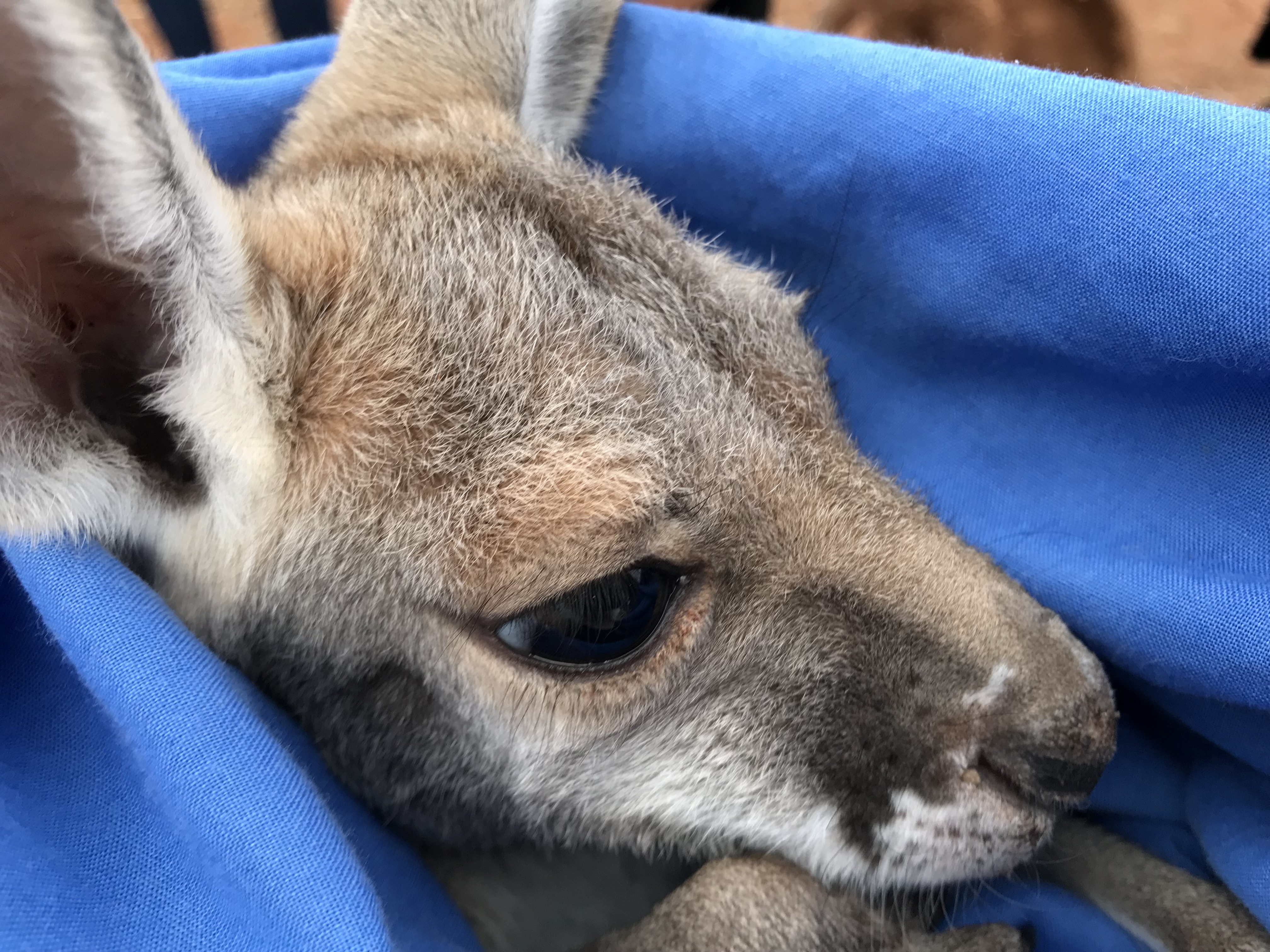 Roman, the rescued joey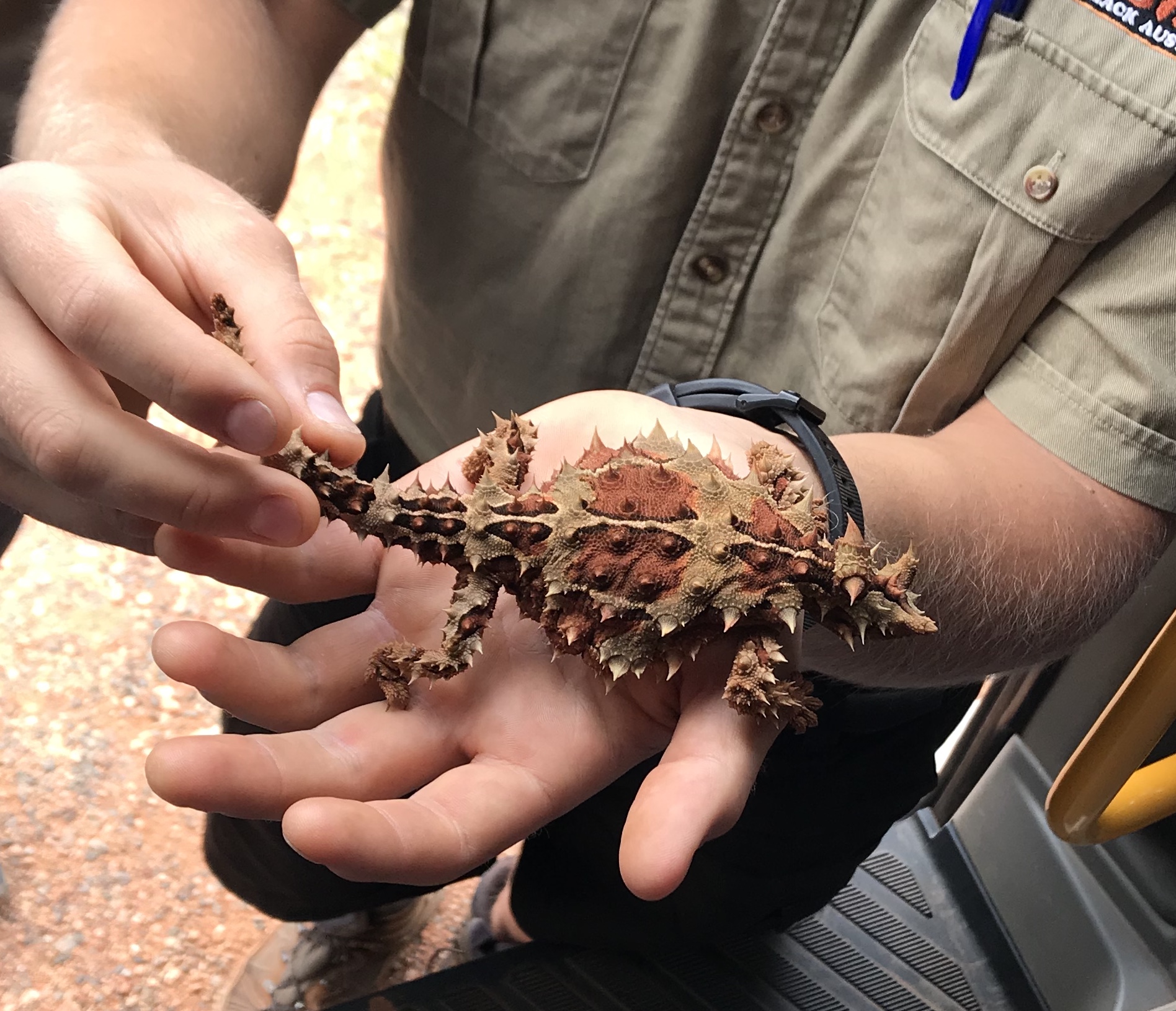 Thorny Devil