I recently had the opportunity to go to Vancouver and Whistler. As my Air Canada flight approached Vancouver Airport, I did one last check on my list of must do's, and carefully tucked the list in my carry-on.
With just two days in Vancouver, I hit the ground running, bicycling and walking to see as much as possible. There is a plethora of quaint & quirky neighborhoods to amble through and spend a leisurely afternoon. Gastown, Granville Island, Chinatown, and Coal Harbor to name a few. Voted 'best park in the world' by Trip Advisor in 2014, Stanley Park is a must. As I rode my bike through the park, I loved seeing the seaplanes taking off and landing on the bay. A highlight of my time in this bustling city was dinner at the Bacchus Restaurant in the Wedgewood Hotel. One of the best meals EVER!!
The drive to Whistler is breathtaking. With stunning views around each curve in the road, I was glued to the window. After settling into my hotel, I started exploring the town. While Whistler may bring visions of skiing and winter activities to many, it is a year-round destination with so much to do & something for everyone – from the avid outdoor types to the foodies.
Did you know that some of the gondolas have a glass floor? On a clear day, you can truly see forever! As I zip trekked over the slopes, I watched bicycles careen downhill below me & ATV's bounce through puddles. Evenings were spent winding down, listening to music in the Whistler Olympic Plaza (The XXI Winter Olympics were held in Whistler in 2010 for those of you too young to remember…)
The foodie in me embarked upon the Whistler Tasting Tour, which provided a good sampling of the diverse culinary offerings in this little town.
If spas are your thing, The Scandinave Spa experience is an excellent option. A short hike through the woods leads you to the spa, set in the woods away from the village in a lovely setting. Talking is not allowed in the baths area, allowing patrons to soak in (excuse the pun) the gorgeous scenery. Although most folks run around in their bare feet, the stones and flooring can be chilly to the tootsies, so you may want to bring along some shower shoes. I spent several hours here gazing out at the beautiful setting in the woods from the hot baths.
No matter the time of year, Vancouver and Whistler are waiting for you!
Special thanks to Tourism Whistler for making this trip possible.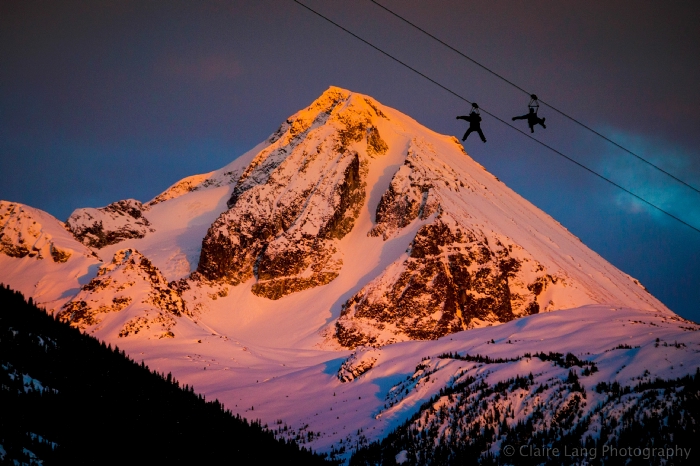 Ziplining at Twilight in Whistler (Courtesy of Superfly Ziplines)