What would it be like? How cold would it be? Would I see lots of wildlife? Would I be the only solo traveler? Would I have the courage to do the polar plunge? All these questions swirled in my head as the plane descended into Ushuaia. I was about to embark on an expedition which would take me to the 7th continent… Antarctica!
A destination on many a bucket list, yet a continent visited by few in the grand scheme of the traveling world. Antarctica had long been on my list and I must pinch myself that I am blessed to be part of an industry which makes the realization of such dreams possible for me… which in turn allows me to make these dreams a reality for my clients.
Embarkation point… Ushuaia. Virtually everyone in Ushuaia is embarking on an Antarctic expedition, working on the expedition ships, or catering in some fashion to the industry. The vibe reminded me of small Alaskan towns.
Falkland Islands
Once aboard Quark's Ocean Endeavour, we quickly set off through the Beagle Channel to the open sea, where we made a sharp left for our first stop on the Falkland Islands aka Islas Malvinas. Stopping along the way on a few of the islands before landing in the big city of Stanley, we enjoyed our first wildlife encounter of Rock Hopper Penguins. With their punk hairdos, they are a delight to observe.
In the capital city of Stanley, I roamed the streets of this British territory, wondering what it might be like to live in a place so remote. The local 'Penguin News' does give one a fairly good idea…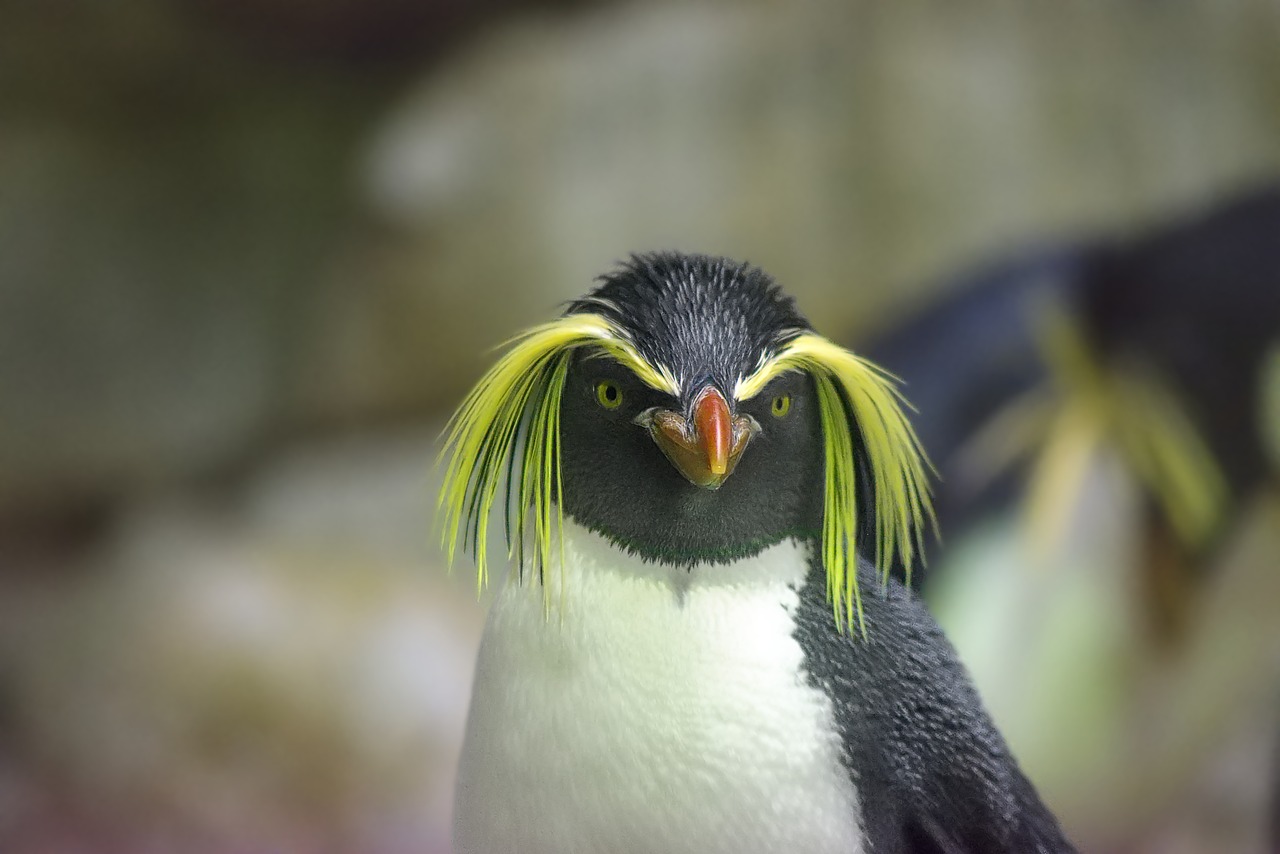 Rockhopper
South Georgia
Appropriately dubbed The Galapagos of the Antarctic, there is so much life here, it's crazy. Adelie Penguins, Fur Seals, Elephant Seals, Humpback Whale pods, all kinds of birds…. We spent several days exploring South Georgia, the zodiacs dropping us in various locations. The warning we received from the expedition crew to stay in pairs or groups is an important one. Fur seals are aggressive little guys, and you have to constantly be on the lookout. If someone is taking photos, others need to be watching their back. They are fast and furious & endlessly in battle protecting their territory. God forbid another fur seal even set a tip of its flipper in their territory en route to their own. Funnily enough, though, the penguins have no fear and hop right over their backs to get to where they are headed. Everyone is on a mission!
King Penguin colonies abound. The largest colony is in St. Andrew's Bay, with more than 150,000 pairs! It's a big, noisy, stinky 'city' with kings coming in from feeding at sea trying to find their chicks or mate. Sometime, chicks try to cheat and get food from whomever swims ashore. They literally take advantage of the adults who are returning from feeding & are confused with all the honking. Sometimes the ruse works and the exhausted adult falls for the chicanery. Yes, they end up feeding a chick that isn't theirs, then quickly realize their mistake and take off in search of their true kin.
After toasting to Sir Ernest Shackleton at his grave in Grytviken, we returned to the ship and bid adieu to this amazing place. South Georgia should not be missed. It is truly remarkable!
Over 250,000 King Penguins
South Orkney Islands
This was a delight to visit and wasn't even on the itinerary. We were blessed with such great weather along the way, that we had time to add South Orkney to the itinerary. There were Adelie, King, Chinstrap and Gentoo Penguins; Fur, Crabeater & Elephant Seals; Orcas and Humpbacks. We made a pitstop at a scientific research station, which had once been a whaling station. A charming little berg with a population of 2!
South Shetland Islands
Here we were truly in the Antarctic, just across the street from the Continent. On these islands, you can get a rare glimpse of Macaroni Penguins, which are not so easy to see because they live in very steep, craggy outcroppings. Watching them try to make it up the mountain with waves crashing and pulling them back out to sea is quite the spectacle. They work awfully hard to get home.
The Peninsula
We arrived! It's difficult to describe the feeling of stepping onto the Antarctic continent and being "On The Ice". This was my 7th continent and quite emotional. I couldn't stop trying to wrap my head around where I actually was as I hiked up the pristine mountain, listening to the sound of silence, gazing out at the whiteness of it all. I kayaked among a gallery of magnificently sculpted icebergs, hiked and did the polar plunge. But mostly, I just took it all in.


The Drake Passage
Crossing the Drake was by far my biggest anxiety. I am very prone to seasickness and the Drake is among the roughest waters on the planet. As luck would have it, it was the Drake Lake rather than the Shakey Drake. The expedition team was disappointed as they love the rockin' and rollin' of the Drake, but I could not have been happier. It was such smooth sailing, in fact, that we were able to hang a left as we came to Cape Horn and then turn back right so we could truly go around the Horn, which was also surprisingly smooth!
As we rounded the turn back into the Beagle Channel to make our way back to Ushuaia, it was time to exchange phone numbers with all the friends I had made on this most extraordinary expedition.
---
The weather could not have been better on this trip. A stormy Antarctica I did not encounter. I took off my jacket a lot, even in Antarctica itself. We were lucky with the weather for sure!
Quark's quality of expedition specialists is exemplary. Quark only does polar expeditions, and they are experts in every regard. The lectures were top notch. Our expedition leader, Solan, was a magician. He got us into places other ships were not able to access.
Going on a voyage of this caliber puts a lot in perspective. If Antarctica is on your bucket list, please don't delay. What are you waiting for?