Herman Melville wrote about it. Buccaneers, pirates and privateers roamed the archipelago. And Charles Darwin developed his Theory of Natural Selection on these volcanic islands. It is a bucket list destination for many and for those who experience it — life changing. Among the first of the UNESCO World Heritage Sites, it is like no other place on earth.
What makes The Galápagos different from other destinations is the "tameness" of the animals. Birds don't fly away, sea lions approach you with curiosity, iguanas gaze at you without flinching. You feel as if you are truly interacting with them. This "tameness", presumably, evolved in the absence of substantial predators. The wildlife here has no natural fear of humans. If you are an animal lover, this destination is a must. Only 4 of the islands are inhabited and, although there are hotels on those islands, the best way to experience Galápagos is by expedition cruise ship.
My experience was aboard the newest addition to Lindblad Expedition's fleet, The National Geographic Endeavour II. Lindblad is a pioneer of expedition cruising and has been introducing guests to Galápagos for over 50 years. Adventures on board the Endeavour II consisted of food, expeditions, gorgeous sunsets & sunrises, more food, new friendships, fascinating lectures by the Naturalists, photography lessons from a National Geographic certified photography expert, and even more food! I observed the largest pod of dolphins I've ever seen swim alongside our ship for a good long time, showing off and smiling as they jumped and frolicked. By the light of the ship one night while docked, we could see sea turtles, Galápagos sharks and stingrays swimming around the ship while we were docked. Each time we passed over the equator was a thrill for me, just one of those things I am enamored of… and yes, I did turn on the sink to watch the direction the water drained reverse direction! I loved every single second of it.
I could write volumes on my experience in the Enchanted Isles, but will do my best to keep it brief. On the many hikes through the islands, the topography varied from lava to greener landscapes to beaches of white, red, black, brown and even green sand. On one of these islands, I was privileged enough to observe the courtship dance of a pair of Blue-Footed Boobies. What a treat that was! The male strutted around high-stepping his beautiful blue feet in hopes of landing his 'gal.' Once she said "I do", the nest building ritual began. The male would find a twig and extend it towards the sky before adding it to the nest. The Blue-Footed Boobies have one of the most beautiful and intricate mating rituals I have ever witnessed, hands down.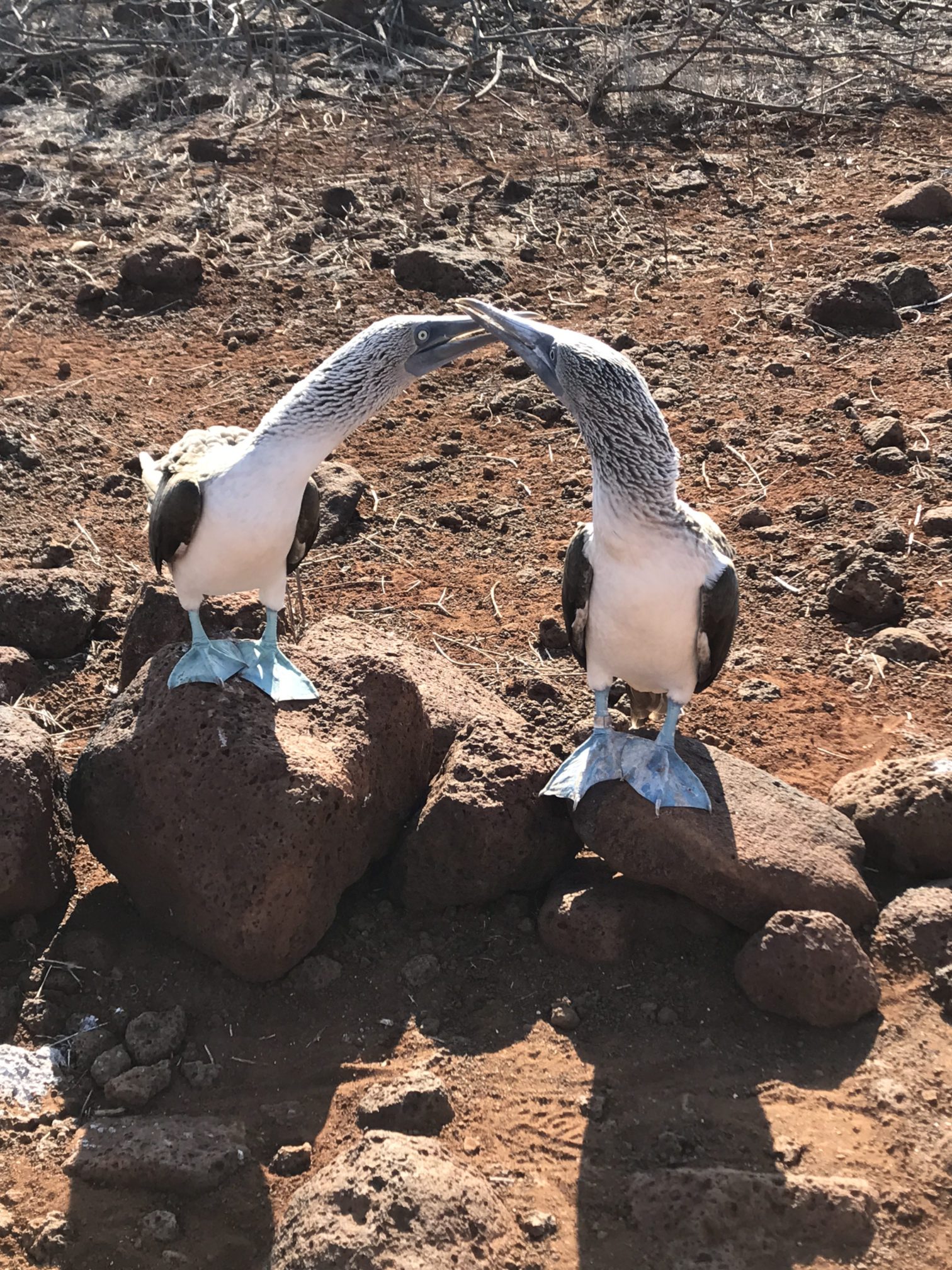 Blue-Footed Boobies
This is the only place to see the Flightless Cormorant ­— seeing them perched along the water with their wings spread makes for a great photo opp.
Great Frigate birds were dotted about with their red-colored throat pouches inflated in hopes of attracting a lady. They are the fighter pilots of the birds, and watching them soar gracefully through the sky is something to behold.
Sally lightfoot crabs, land iguanas, marine iguanas… often with a lava lizard lounging on their head – I guess that would make it a lounge lizard! Sorry, I couldn't resist…
The giant Galápagos tortoises (and I do mean gigantic…) are fascinating, their eyes full of wisdom. They've seen so much — if only they could talk. Did you know that their face was the inspiration for E.T.'s look?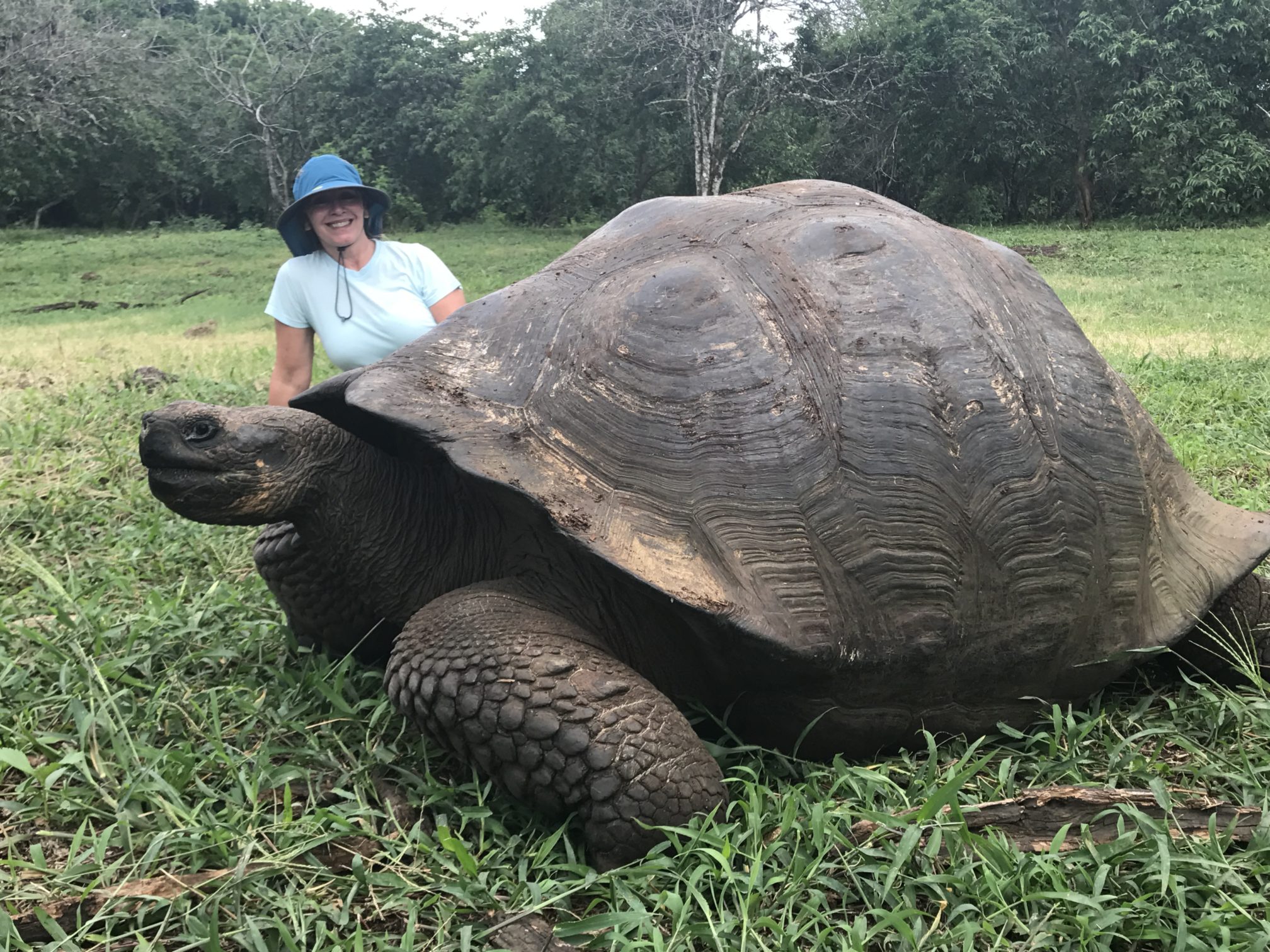 Giant Galápagos Tortoise
Snorkeling through a veritable city of Pacific Green Sea Turtles, I had to be careful with my fins for fear of accidentally kicking one. There were so many! Marine iguanas munched on seaweed, penguins buzzed underneath me like torpedoes, while stingrays, Galápagos sharks, sea lions, fur seals and schools of fish swam past. Paddle boarding, a gigantic  manta ray swam past me in its elegant tempo. I could go on…
I do strongly support sustainable travel and this is an area of the world where concerted efforts are being made. There are strict regulations in place when visiting, and for good reason. The reality of the danger that humankind poses to this special place hit me hard on the very last day. There was an injured sea lion onshore. Upon closer inspection with one of the expedition leaders, it looked as if its head had been lacerated by a boat propeller blade. Although Galápagos requires all watercraft to have propeller guards, enforcing it has proven problematic. It is heartbreaking to see one of these innocent, trusting animals suffering the consequences of a negligent boater. We had a veterinarian on board, who said the head trauma was too severe and the animal would not survive. We called the National Park Services to come and attend to the suffering sea lion. It pains me deeply to see any animal suffer, especially when inflicted by mankind. The previous day, I had a near religious experience with a sea lion pup (see video below), which made the sight of this sweet, suffering animal all the more impactful.

Sweet Kisses!!
Lindblad and National Geographic's relationship with Galápagos runs deep and they contribute significantly to a myriad of programs. If you are so inclined, please click here to support Galápagos Conservation.