Well folks, I finally made it to Alaska! Southeastern Alaska to be more specific. Haines to be even MORE specific. Where bald eagles abound, salmon flourish and glaciers carve their way to the sea. This is bear and bald eagle country. Salmon run riot, and the indigenous Tlingit carve totem poles which are peppered throughout the town.
Was I expecting "Northern Exposure?" Maybe a bit. Although I didn't see any moose walking along Main Street, this is a small town, somewhat removed from the more touristy towns of Alaska. Everyone knows everyone, the views are stunning, it is safe, children play outdoors, there is a strong sense of community and the simple things in life are paramount. I stopped and smelled the roses, so to speak. As we know, it takes a few days to slow down before the stresses of living in a city start to melt away. The LUXURY of time spent in a destination allows travelers to really get to know a place. Having the LUXURY of being in Haines for some time allowed me to do just that.
I cannot say enough about the generosity of the locals. They opened up their town to me and treated me with such warmth and kindness. I rafted, kayaked, saw wildlife, learned about photography, flew over Glacier Bay National Park and Preserve, went whale watching, went paddle boarding, visited a Chilkat Village in Klukwan with its famous Whale House collection, fished at 10PM, and even volunteered at the kids' theatre camp!
The Fourth of July was like "Little House on the Prairie". Starting the day off with a parade, the town then assembled at the park for spike driving contests, mud volleyball and three-legged races, just like in the movies!
This small town of 1500-2500 residents (depending on the time of year) is the perfect destination for travelers who want to experience a true Alaskan experience without crowds and too many tourists.
The largest known gathering of American Bald Eagles takes place each year from October – February, with the Alaska Bald Eagle Festival taking place in mid-November. In fact, in November, the largest congregation of bald eagles in the world can be seen as they fish for chum salmon on the Chilkat River. This area, known as the Chilkat Bald Eagle Preserve, sees anywhere between 1,000-4,000 bald eagles during these months. Oftentimes 6 or more birds to a branch! Photographers and spectators line the banks of the river every year to see this phenomenon.
For true adrenaline junkies, heli-skiing is a large draw here. Haines offers some of the best in the world and there are several options to choose from.
I must give special thanks to the Director of Tourism, Leslie Ross, for taking me in and sharing so generously. I would also like to thank Rainbow Glacier Adventures, Mountain Flying Service, Alaska Fjordlines, Kroschel Wildlife Center for their generosity in allowing me privileged access to their sites and activities. And a HUGE shout out to my gracious host, who made all of this possible.
Thank you HAINES!!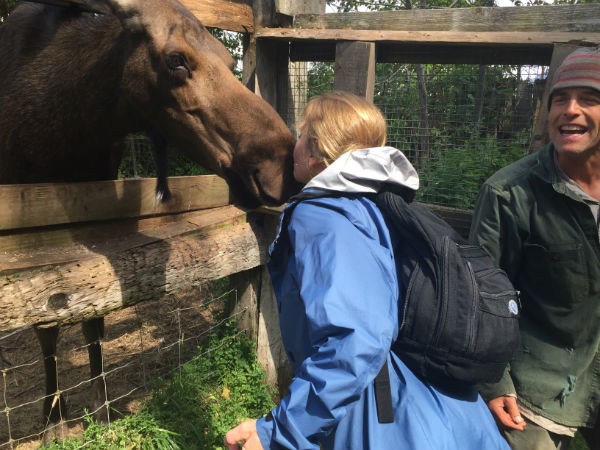 Smooching with a rescued moose at Kroschel Wildlife Refuge